(g) Powered water system
If you set your water tower system up based on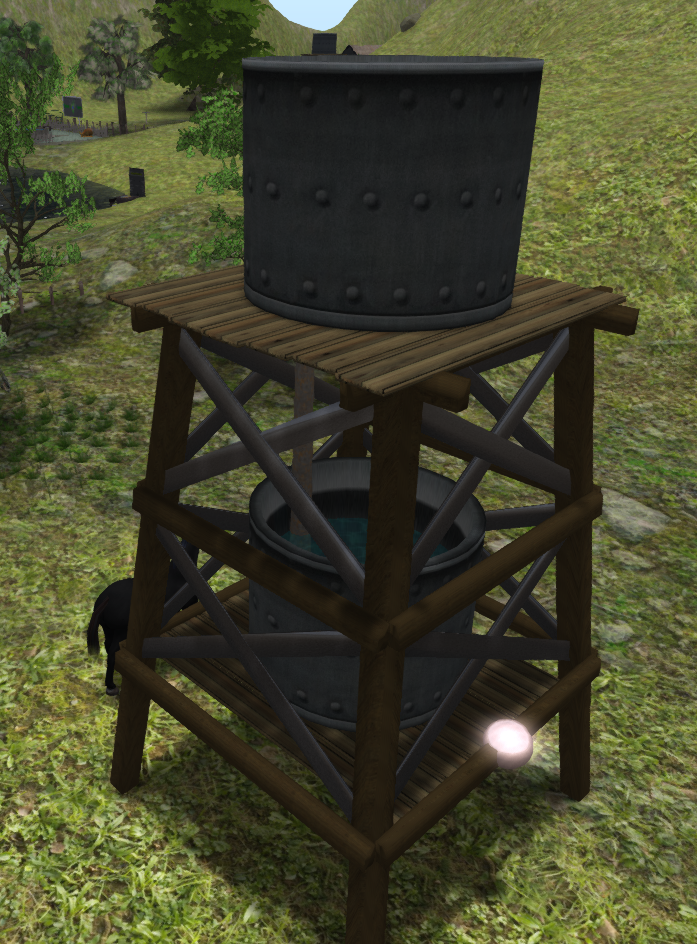 the instructions in the 'Getting started' guide, then you will have a system that uses one wind pump to power one water tower. You can instead change things so that the water towers work with the region wide powered water pump, removing the need to have a wind pump next to every water tower.
This way you can place the water towers where they are needed and then you only need to place one electric pump to supply the entire region. When set to use power, the water tower will request the pump to start when the water level drops below around 40%. If there isn't enough energy it will wait and try again later. When the tower is filling with water you will see a green + on the metal ball. The water level may not go much above 60% but that is quite normal.
Normally you should only need one water pump per region , and it uses 1 unit of power to increase the amount of water in any grid enabled water tower by 25% Water towers gives out ONE_PART of water each time a plant or feeder asks and by default that is set at 2%
Changing the configuration
To convert the water tower you just need to edit the config notecard and change it from MODE=WIND to MODE=GRID:
MODE=GRID
SF Electric Pump
This covers an entire region and it will supply water on demand to all Water Tower's configured to GRID mode as long as there is enough energy stored in the grid. The only configuration for the config notecard is to optionally set the default language (touching the pump also gives you the language selection menu).
A new electric pump will start showing 'Stopped' with a blue indicator. When a request for water is made to it, assuming there is power in the grid, it will switch to 'Running' with a yello indicator. When it finishing pumping water the indicator will show green 'ONLINE' If at any point of trying to send water there is not enough power, the pump will show a red 'STOPPED' indicator.
---

This work by Cnayl Rainbow is licensed under a Creative Commons Attribution-NonCommercial-ShareAlike 4.0 International License.
Based on a work at https://satyrfarm.github.io/